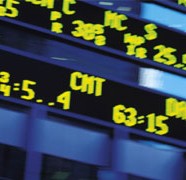 Share This
Recent News Articles
Local Guides
Gold gains again
Gold added $10.50 an ounce Tuesday on the Comex division of the New York Mercantile Exchange, gaining for the second consecutive trading session.
Traders are anticipating a third round of quantitative easing, given U.S. Federal Reserve Chairman Ben Bernanke indicated on Friday the Fed is prepared a take steps to boost the economy.
A third round of quantitative easing would likely dilute the value of the U.S. dollar, which would make gold more affordable abroad, in effect increasing demand for gold by changing the price.
Gold closed at $1,698.10 a troy ounce while silver added 93 cents to $32.37.
The dollar index rose 0.16 percent to 81.34.
The Canadian dollar fell to 98.60 cents and the British pound rose to $1.5874 while the euro rose to $1.2578 and the dollar fell to 78.4 yen.
Copyright 2012 by United Press International