Special Reports
3 alleged suicides get another look as more neocon malfeasance surfaces in Europe
By Wayne Madsen
Online Journal Contributing Writer


Aug 22, 2006, 00:25


(WMR) -- More neocon malfeasance surfaces in Europe -- three "suicides" getting another look and ransacking of a Socialist presidential candidate's home point to more Bush administration and neocon dirty tricks.
As the Bush-Cheney administration gears up for a planned military attack on Iran, there is renewed interest by European intelligence analysts in the July 17, 2003, reported "suicide" of British Ministry of Defense weapons of mass destruction (WMD) specialist and UN Iraq weapons inspector Dr. David Kelly. In what is widely believed to have been a Blair government cover-up, Lord Hutton, in his official report, concluded that Kelly committed suicide in a wooded area near his Oxfordshire home using a dull knife to cut his left wrist and ingesting 29 over-the-counter analgesic tablets.
With the Bush administration now using the Iraq playbook to justify an attack on Iran, Kelly's knowledge about the disappearance of two South African nuclear-tipped missiles from a U.S. B-52 that crashed in the Indian Ocean in February 1991 may have sealed the British scientist's fate. The two tactical nuclear weapons, being shipped to the United States for de-arming after South Africa's majority government scrapped the nation's nuclear weapons arsenal, created by the apartheid government with the technical assistance of Israel, were lost after a U..S. Air Force B-52 carrying them from the Indian Ocean island of Diego Garcia to the United States crashed as a result of multi-engine failure off the Somali coast. The plane has developed electrical problems after leaving Diego Garcia and was attempting a return to the island with its sensitive cargo. Three crew members of the B-52 parachuted to safety but three others were killed when the plane crashed into shallow waters off the Somali coast.
Kelly was a British security services asset who knew about the South African nuclear weapons program. He was also aware that a neocon disinformation story that the two South Africans tactical nukes were retrieved by weapons dealers, sent to Oman, and sold to Iran for the cannibalization of their weapons-grade uranium was false. In fact, Kelly knew that then-Secretary of Defense Dick Cheney was well aware of the loss and subsequent retrieval of the nuclear weapons by covert U.S. intelligence assets but failed to warn the United Nations pursuant to the Nuclear Non-Proliferation Treaty (NPT) as required under U.S. law. The United States was a party to the NPT at the time of the "loss" of the South African weapons. Moreover, all of the countries reported to have been involved in the weapons shipment -- South Africa, Oman, and Somalia -- were also parties to the NPT. It is feared that the weapons-grade uranium from the South African nukes will be used as a "smoking gun" to show Iran's possession of nuclear weapons -- perhaps in a dirty bomb "found" entering Lebanon to Hezbollah forces from Syria. Such an event would give the neocons justification for simultaneous attacks on Hezbollah, Syria, and Iran.
There is also renewed interest in the reported "suicides" of two telecommunications experts who discovered U.S. intelligence involvement in the tapping of European cell phone communications. On February 4, 2006, WMR reported, "A sophisticated cellular phone eavesdropping system has been discovered in Greece. The surveillance system was placed within the Vodafone cellular phone system and apparently used a trap door in a 'locked field' contained in Ericsson phones creating a virtual 'sub system' within the cellular system. Among those being wiretapped by the surveillance system reported to have been installed by highly-proficient IT professionals was Greek Prime Minister Costas Karamanlis, the Greek Foreign Minister and the Commissioner to the European Union, Greek national security officials (Defense, Public Order, and Justice Ministers), opposition leaders, journalists, peace activists, and Arab nationals. The cell calls were relayed to an antenna array in the vicinity of the U.S. Embassy in Athens."
It was later discovered by the Greek government that the antenna relay near the U.S. Embassy re-transmitted the intercepted cell phone signals to Laurel, Maryland, quite possibly a super-secret joint National Security Agency/CIA activity known as the Special Collection Service (SCS) or "F6," located in a non-descript office complex between Laurel and Beltsville, Maryland. The SCS specializes in the type of "black bag" eavesdropping operation that was directed against the Greek government and Greek private citizens. For its communications, the SCS piggybacks on the satellite network run by the U.S. State Department's Diplomatic Telecommunications Service (SA-26), located adjacent to the SCS building in Beltsville.
Covert eavesdropping of European cell phone calls involve these two facilities located on Federal property between Laurel and Beltsville, Maryland: the State Department's Diplomatic Telecommunications Service (l.) and the NSA-CIA Special Collection Service (r.)
On March 9, 2005, Costas Tsalikidis, the Vodaphone telecommunications expert who discovered the U.S. eavesdropping system in Athens in early 2005, was found by his mother hanging from a rope in his apartment. There was no suicide note.
On February 17, 2003, a special CIA and SISMI Italian intelligence team kidnapped Imam Hassan Mustafa Osama Nasr from a Milan street and shipped him secretly to Egypt for imprisonment and torture. Adamo Bove, the telecommunications security chief for Telecom Italia, identified from their cell phone call records, 26 CIA agents now wanted by Italian authorities for kidnapping the imam. Bove was assisting the Italian authorities in their investigation of the American team. On July 21, 2006, Bove's body was found below a Naples highway overpass, his car parked on the bridge above. Police ruled Bove's death a suicide.
After returning from their August holiday, French Socialist presidential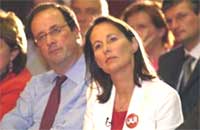 French Socialist couple: Socialist Party Secretary General Francois Hollande (l.) and Socialist Presidential candidate Segolene Royal victim of Sarkozy/neocon home break-in and ransacking?

candidate S�gol�ne Royal and her partner, French Socialist Party Secretary General Fran�ois Hollande, discovered that their Paris apartment had been broken into and ransacked. Although nothing was stolen, Royal and Hollande reported the break-in to police. Royal also suspects that wiretaps were placed on her phone lines. After reporting the break-in, Interior Minister Nicolas Sarkozy, France's leading neocon and candidate for the right-wing UMP party in next year's presidential election, leaked the break-in story to the press, angering Royal and Hollande.

Sarkozy has been under investigation for accepting bribes while French Budget Minister from 1993 to 1995 in a Taiwan frigate scandal that

Sarkozy continues to bring neocon dirty politics to France.

involved a series of secret accounts at Cedel International (later Clearstream Banking SA) in Luxembourg. An examination of an internal Clearstream document by WMR reveals a number of Taiwan-French accounts (BNP Paribas Taiwan Branch, Societe Generale SA Taipei Branch, Credit Lyonnais Taipei Overseas Banking Unit, etc.) held in the Luxembourg-based banking clearing house. Joel Bucher, the one-time deputy director of Societe Generale's Taipei branch, in a letter to Lucembourg prosecutor Carlos Zeyen, confirmed that his bank branch used the Clearstream accounts for paying bribes and laundering money. Some of the bribes were paid through Cedel International, which merged in 2000 with Deutsche Borse Clearing to create Clearstream.

Not only have the Socialists demanded a full investigation of the scandal but former French DGSE Secret Service General Philippe Rondot has revealed that it was President Jacques Chirac and Prime Minister Dominique de Villepin who ordered the secret services investigation of Sarkozy's financial involvement in the scandal. WMR's French sources report that Chirac, de Villepin, and the Socialists suspect Sarkozy of links, through Clearstream, to individuals connected to the Russian-Israeli Mafia. Sarkozy, who is strongly pro-Israel, is a hero to the global neocon network, having helped egged on a number of Muslim riots in France last year by his use of anti-immigrant racial and religious rhetoric.

A number of Clearstream accounts involved in the Taiwan frigates pay-off deal were linked to convicted Russian oligarch mobster Mikhail Khodorkovsky, his Bank Menatep, and French political beneficiaries of Clearstream money flows. Other Clearstream money flows reportedly involved Colombian drug cartels, multinational oil companies, Banco Ambrosiano, CIA money laundering, the Italian P-2 Masonic lodge, and the Vatican Bank. As Interior Minister, Sarkozy is in the perfect position to determine what evidence his political opponents and investigating judges like Renaud Van Ruymbeke have on him.

It is clear that Europeans are growing tired and hostile as a result of Bush administration and neocon activities throughout the European Union.

� 2006 WayneMadsenReport.com. All Rights Reserved.

Wayne Madsen is a Washington, DC-based investigative journalist and nationally-distributed columnist.

He is author of the forthcoming book, �Jaded Tasks: Big Oil, Black Ops & Brass Plates.� He is the editor and publisher of the Wayne Madsen Report.

Copyright © 1998-2006 Online Journal
Email Online Journal Editor